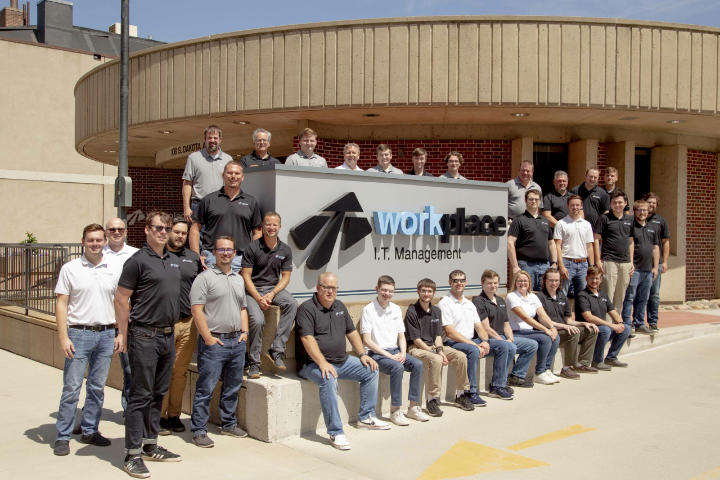 Join Our Team
At Workplace, technology is more than a job. It has the power to make life and business easier for our clients, our staff, and our community.
Contact Us
Superior Service
"always easy to work with, problem resolved quickly!!"

"The whole workplace team did a great job patiently working with me and going over my many questions."

"Zach always does a great job for me when trying to resolve issues. I wish he would answer the phone every time I call!"

"Daniel is so easy to work with and always finds a solution to my issues!!"

"Even though the IT guy couldn't help me at the time, he kept the ticket open in the event I found some answers and he would then be able to help me."

"Again, I am always very satisfied with the support I receive from the team at Workplace I.T. I am grateful for their support, their friendliness and great customer support. "

"Derek was very good at explaining the risks and providing alternative options. In the end he provided the best option to get what we wanted done and made it easier for us and WTC to change it in the future. "

"Dan was friendly and was able to help me"
"I am excited that my verifone works now!!! It seems like forever since I've had one that worked!!! Thank you to everyone that worked on it especially Mark!! He went above an beyond to get it working!!! Thank you!!!"

"You guys are always on top of things and so helpful! Thanks, Bailey!"

"Super fast turnaround and my computer is set up almost completely the same. Thanks so much!!!"

"He was very patient with me as i do not understand computers very well"

"great response and fx of problems"

"Helped me in less than 1-2 minutes, got me back up and running in the middle of my sale. Fabulous!!"

"Oddly, my call was to report not being able to log in to take my periodic Workplace test. My guy took care of me."

"Was helpful and had a great attitude!"

"Tech was very helpful and diligent."
Located in Sioux Falls, South Dakota.